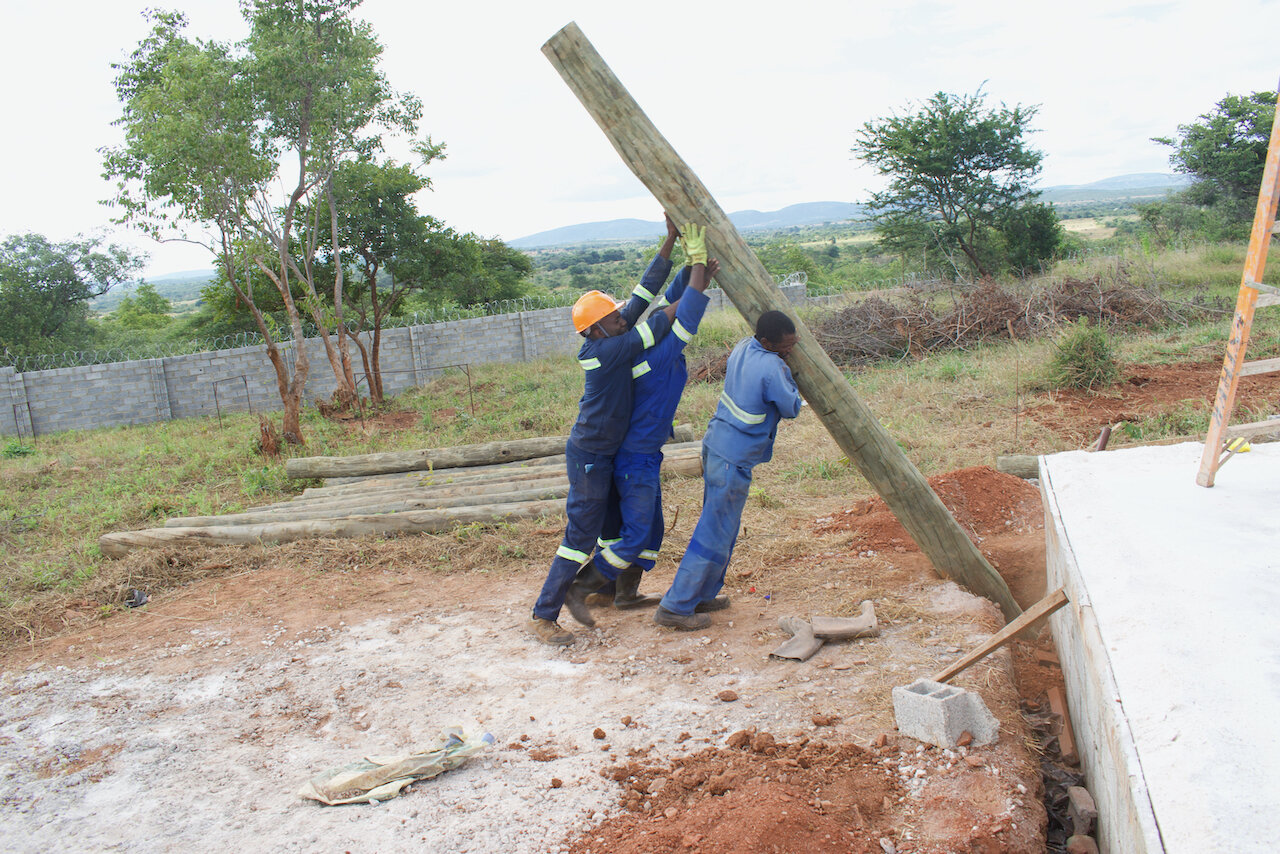 This year, God built a worship center! It is a large building called an nsaka, a grass-roofed structure providing shade and shelter from the weather. Like every new project, the worship center showed us that God is in charge of every detail. He incited the idea, assembled the team to build it, and took care of the construction.
The idea of a worship center came after looking around and noticing that worship was vital to The Esther School. Teachers led praises during morning devotions. At worship classes, students learned and practiced different ways to show adoration. And during chapel, the entire school exalted God! Dedicating a permanent space for worship would solidify worship's importance to students, staff, and the community.
While we dreamed about what to build, we looked for a location. From the original land sat an unused, open space on a hill overlooking the school. The site rested where the community could see and hear worship, and it was large enough to hold the entire school. We discovered that God provided the land long ago and created it for the worship center!
As God was preparing The Esther School, He also spoke to a stranger named Fred Monyo. Fred's construction company built nsakas around Zambia for lodges, conference centers, and various businesses. However, one day in 2019, Fred heard a promise from God: he'd build a house of worship where people would experience the Lord's presence. He didn't know where or when, but he knew it was a message from God. So he told himself, "Trust God, pray hard. It's from God," and he waited patiently for God's timing. However, as Fred continued building across Zambia, he recognized that the projects weren't the promised building. So, for a year, he continued to pray.
Then, miraculously, God brought Fred and The Esther School together. Fred traveled to a market to distribute flyers for his business. At the same time, Drew Roelofs, the executive director of The Esther School, went to the market and saw Fred advertising that he built nsakas. Upon their conversation, the men realized that they were the answers to their prayers. As Fred stated, "It's a miracle. It's God's work!" The God-inspired pictures in their imaginations were the same - a worship center!
Construction for the worship center began in 2021. Fred and his team poured a concrete slab, assembled wooden beams, and wove grass into a roof. As they worked, they kept in mind what they were building. Throughout the construction, they acknowledged the students, staff, and family members who'd worship in the structure.
On September 10, we used the worship center for the first time! As classes, teachers, and staff filed into the new building, we excitedly waited to dedicate the new space. The chapel service provided us with the opportunity to thank God for hearing our prayers and speaking promises. Together, we sang praises, listened to a message from our headmaster, and looked in wonder at the new building that God built. Worship resounded through The Esther School. Students shared what it meant to use the worship center. A grade eight student told her school:
"Parents and children, brothers and sisters rejoice in the blessing in worshipping in the new worship center. It is not us but God. He used our workers and the people who planned it so that we could worship together, like God telling Noah to build the ark and go in with his family. So now, we come here to worship as a family. God understands how deeply we feel coming to worship Him here, and God promises us that He will be with us. Thank you, workers."
We are thankful that God provided a worship center. He showed us that He hears our prayers, keeps His promises, and is in control. We look forward to how Jesus will use the space to draw people closer to Him.